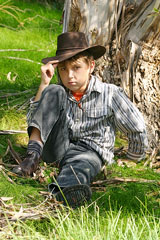 A young boy sits in the rugged outback of Australia, wearing a wide-brimmed hat and boots. He leans against a tree in the bush, which grows amidst vivid green grass. Explore both wide-open spaces and cosmopolitan areas in Australia. This smallest continent boasts just about every kind of scenery, from beaches and deserts to the "bush" and highly populated urban areas. Enjoy global foods, arts, and culture in cities such as Melbourne and Sydney. When you are not taking pictures of interesting animals like the kangaroo, enjoy some shrimp on the "barbie" with your new mates.
Search Results
---
Use the search box on this page to find information about Australia.
Copyright © 2010-2023 Map-of-Australia.us.
All rights reserved.

Map of Australia - Custom Search Results